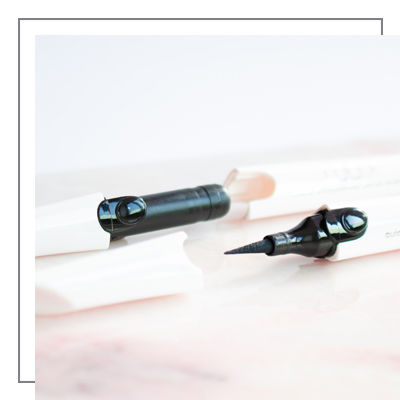 Refillable packaging is hot and its presence is increasing in the health and beauty market. Less waste please!
For years now, we've been teaming up with our suppliers to make our packaging more recyclable and sustainable. LOOkX products, packaged without cellophane, are shipped in recycled brown cardboard boxes filled with water-soluble, 100% bio-degradable bio chips. 
And did you know that we are pioneers in refillable packaging and already offer a refillable eyeshadow system for over 15 years now? LOOkX was also the world's first company that launched luxurious refillable cleansers on the market. Apparently, we were trendsetters without realizing it back then.
The LOOkX Eyeshadow boxes are magnetic and easy to fill with eyeshadows, making it good to go! Choose your favorite LOOkX Eyeshadows and click them into the eyeshadow box. After using the eyeshadows every day, you can simply refill the box again when an eyeshadow pan is empty.
We've come up with a durable packaging refill system for our lotion, cleansers, liquid eyeliner, eyeshadows and mini-blush. And we're working on more refillables for our foundations, creams and serums as we speak. The refill system may cost us a little extra, but saves the planet a lot of waste.
Discover our refill products:
1. LOOkX Cleansing mousse
2. LOOkX Derma daily cleanser
3. LOOkX Refresh lotion
4. LOOkX Liquid eyeliner
5. LOOkX Eyeshadow box triple magnetic
6. LOOkX Eyeshadow box solo magnetic